Fire Alarm System
ระบบสัญญาณเตือนภัย
---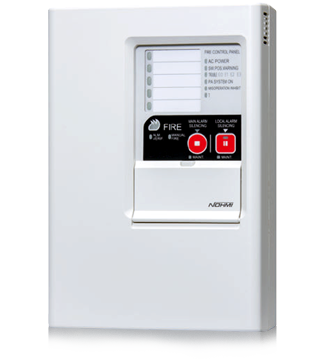 Fire Alarm Panel
FAPN202-R-5L
Feature
Conventional type 5 fire zones (No Programming required)
Alarm verification type(Alarm verification time:60 seconds)
Self diagnosis system
Misoperation inhibit function
Back-up Power Supply (Ni-cd battery, 24VDC)
Large fire alarm symbol for easy visual recognition
Durable LED indicators
Removable front cover for easy installation and maintenance
Built-in surge arrester for power lines
Description
On receiving a fire signal from a fire detector or a man ual alarm box, the FAPN202-R-5L conventional fire alarm panel produces visual alarms indicating the alarm point, as well as sounding an audible alarm to alert the alarm panel operator . It also produces alarms to alert the occupants of the building premises. The FAPN202-R-5L Conventional fire alarm panel indicates the alarm points on individual zone lamps.
ข้อมูลสินค้า
Conventional type 5 fire zones (No Programming required)
Alarm verification type(Alarm verification time:60 seconds)
Self diagnosis system
Misoperation inhibit function
Back-up Power Supply (Ni-cd battery, 24VDC)
Large fire alarm symbol for easy visual recognition
Durable LED indicators
Removable front cover for easy installation and maintenance
Built-in surge arrester for power lines
Model No.
FAPN202-R-5L
Type
Conventional type
Power Supply :
220 VAC 50/60 Hz
Auxiliary Power Supply :
Ni-Cd battery (24VDC,0.45Ah)
Circuit Voltage :
5,24,48 VDC,24 VAC
Alarm Verification Time :
Thermal detector : 10 sec. ; Smoke detector: 60 sec .
Power Consumption :
Monitoring : 25VA max. approx.
Alarm : 40 VA max. approx.
Maximum Number of devices Supported :
Spot types Smoke detectors : 30/zone(max. 150/Panel)
Alarm bells : 15 (24VDC, 10mA / bell)
Location lamps : 5(30V , 2w /lamp) 15(24V,24mA/LED) 21 (24v,15mA/LED)
Ambient Temperature and Humidity :
0 to 40 ํC , 20 to 85% (RH)
Alarm Input circuit loop resistance:
Less than 50Ω / loop
End-of-Line Resistor :
10 kΩ , 1/2W
Materials (enclosure):
ABS resin with 94UL-V2 flammabi lity rating
Color :
off-white(Nohmi White): approximating Munsell N8.7 or equivalent
Weight :
Aprrox. 3kg.